︎ ︎ UNDER CONSTRUCTION, so for now, this ︎︎︎
On this page, scroll for:

Artwork
Design
Texts
About

TITLE
THUMBNAIL IMAGE
LOCATION and INTRO
Amelie
(scenic design)
Open Stage
Harrisburg, PA

Director: Stuart Landon
Lighting: Tristan Stasiulis
Costumes: Jen Kilander

Scenery built almost entirely from stock 2x4s, scavenged textiles, and secondhand windows.


Unknown
(wearable illuminated sculpture)
Teatro de la Cuidad
Mexico City, MX

Co-design with Kent Barrett
Director: Charlotte Brathwaite

A Midsummer Nights Dream
(scenic design)
Pendragon Theater
Saranac Lake, NY

Director: Karen Kirkham
Lighting: Kent Barrett
Costumes: Kent Stread

Found material set built in the woods of a nature preserve in the Adirondack mountains.


Spiegelgarden Bar (installation design)
Rochester Fringe Festival
Rochester, NY

Sculptural installation with found lighting on the festival grounds
Spitfire Grill
(scenic design)
Arthur Storch Theater
Syracuse University
Syracuse, NY

Director: Ralph Zito
Lighitng: Emily Stork
Costumes: Katie Tulin
Kinds of Light
(scenic design)
The Tank
New York, New York

Creator/Director: Summer Shapiro
Lighting: Simon Harding
Sound: Sean Brennan

Found material scenery with interactive paper, drawings, and small sculptures


Ring of Fire
(projection surface design)
Rcoky Mountain Repertory Theater
Grand Lake, CO

Director: Michael Querio
Scenery and Lighting: Kent Barrett
Costumes: Jesus Perez
Butoh Electra
(scenic and costume design)
Irondale Center
Brooklyn, NY

Adaptation: Jordan Rosin
Lighing: Evan Gannon

THUMBNAIL IMAGE
TITLE and INTRO
Needle and Thread

Instructive zine used as a teaching tool in ART 216: Sewn Construction at Portland State University, during remote learning of spring 2021.
The Gospel According to James Baldwin

Hand-drawn graphite illustrations completed for a 4-issue, postal print edition of Meshell Ndegeocello's project The Gospel According to James Baldwin. Issues were available to the public free of charge for a limited time, accompanied by a call-in musical composition.

Graphic Design: Becca Meek
Director: Charlotte Brathwaite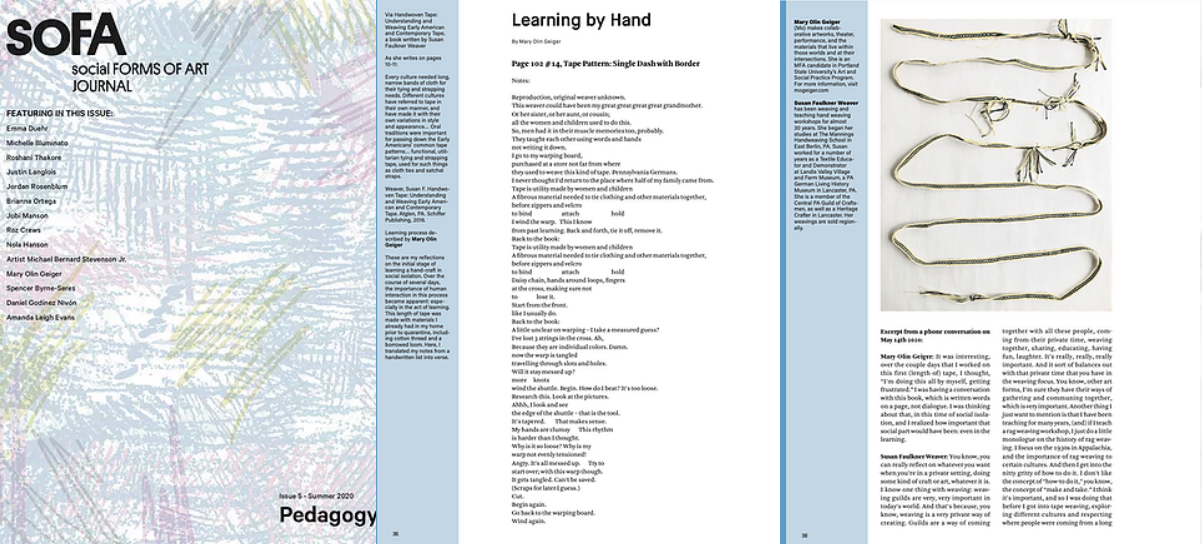 Socal Forms of Art Journal
Issue 5: Pedagogy

Learning by Hand describes the experience of learning to weave Pennsylvania Dutch tape by using a book during the pandemic when human contact was limited. The learning process was transformed from into broken prose from hastily taken notes and photos. The text is accompanied by an interview with the book's author and local tape historian, Susan Faulkner Weaver.
Assembly 2020: The Borrowed Tool Project Archive

An introduction to the Borrowed Tool Project Archive, as presented at PSU's Assembly 2020. The Archive is a project started by the artist as a vessel for communally-sourced documention of work done with tools borrowed from the Library.