snapshot of Winter 2021 cover, designed by Laura Glazer
2021
Schedule and event guide for AssemblyTV: which appeared in 2021 as a week-long version of the Portland State Art and Social Practice program's annual social practice conference called Assembly. The layouts were inspired by old TV Guides and sharpie zines. In a time of constant pandemic exhaustion, this printed and digital guide was an attempt to feel more connected by using the things we already had available, combined with levity and a quick+dirty aesthetic.
Co-conceived and designed with Laura Glazer and Diana Marcela Cuartas
Cover Illustrations by Shelbie Loomis
Event Ads designed by each student who presented
Planning organized by Becca Kauffman
Needle and Thread

2020

Instructional zine designed and drawn to be a teaching tool for ART 216: Sewn Construction at Portland State University (during remote learning of Spring 2021)

Class instructor and zine maker: Mo Geiger


The Gospel According to James Baldwin

2020

A 4-issue broadsheet edition of Meshell Ndegeocello's performance and music project The Gospel According to James Baldwin. Free issues were sent to subscribers via mail, available online to the public for a limited time, and accompanied by a musical composition received via phone call.

Lead Artist: Meshell Ndegeocello
Director: Charlotte Brathwaite
Graphic Design: Becca Meek
Hand-drawn graphite illustrations: Mo Geiger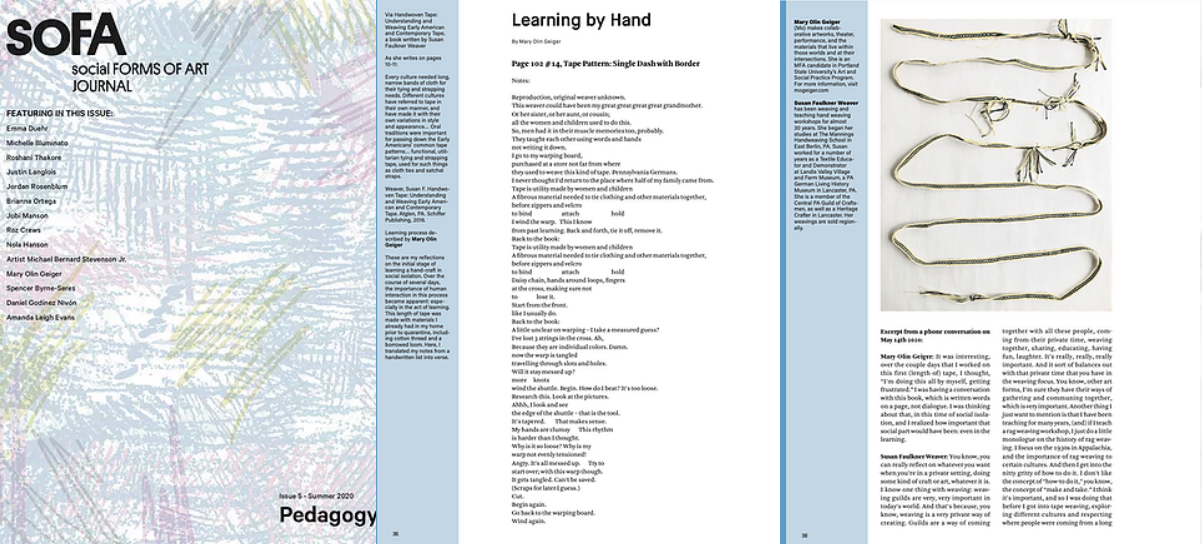 Learning by Hand in Issue 5: Pedagogy
2020
Inside this issue, the article
Learning by Hand
describes the experience of learning to weave Pennsylvania Dutch tape by using a book during the pandemic when human contact was limited. The learning process was transformed from into broken prose from hastily taken notes and photos. The text is accompanied by an interview with the book's author and local tape historian, Susan Faulkner Weaver.
Inside this printed catalogue is an introduction to the Borrowed Tool Project Archive — as it was presented at Portland State's Art+Social Practice Assembly 2020 conference. The Archive serves as a vessel for communally-sourced documention of work done with tools borrowed from the Carlisle Tool Library.