Amelie
(scenic design)

Open Stage
Harrisburg, PA
2020

Director: Stuart Landon
Lighting: Tristan Stasiulis
Costumes: Jen Kilander

Scenery built almost entirely from 2x4 scrap in stock at the theater. Curtains were made from bedsheets purchased at thrift stores, and windows came from and returned to architectural salvage.


Unknown
(wearable illuminated sculpture)

Teatro de la Cuidad
Mexico City, MX
2019

Co-design with Kent Barrett
Performance Creator: Antonio Cerezo
Director: Charlotte Brathwaite

Wearable sculpture created by Mary Olin Geiger and Kent Barrett in collaboration with Antonio, Charlotte, and Sunder. Made from webbing, elastic, and LED lighting instruments that could be controlled by Antonio, the performer, during his performance in a darkened space. The sculpture is pictured here in a rehearsal.

A Midsummer Nights Dream
(scenic design)

Pendragon Theater
Saranac Lake, NY
2017

Director: Karen Kirkham
Lighting: Kent Barrett
Costumes: Kent Stread

Performed on a stage built in the woods of a local park and recreation center. The stage was constructed from locally milled timber, and all of the scenic materials were found at the site or in the theater's storage. The stage remains in the park, and it's regularly used for community events.

Spiegelgarden Bar
(installation design)

Rochester Fringe Festival
Rochester, NY
2017

One of the main event spaces created for the Rochester Fringe Festival's central gathering place. Most of the lighting instruments were found at architectural salvage warehouses between Pennsylvania and New York State.
Spitfire Grill
(scenic design)

Arthur Storch Theater
Syracuse, NY
2016

Director: Ralph Zito
Lighitng: Emily Stork
Costumes: Katie Tulin

Built from donated, scavenged, and garbage materials found in an around Syracuse, York. Some of the materials inspired by the play were: broken dishes from a famed dumpsite near the now defunct Syracuse China Factory, industrial discard and leftovers from various flooring, upholstery, and architectural salvage companies in the area, shipping supplies, and broken asphalt. Materials were tracked during production and during proper disposal or reuse. I created this design as a guest alumnus of the Syracuse University Drama Department.



Kinds of Light
(scenic design)

The Tank
New York, New York
2013

Creator/Director: Summer Shapiro
Lighting: Simon Harding
Sound: Sean Brennan

Scenery built from found materials with interactive rolls of paper, drawings that changed throughout the show, and small sculptures.


Ring of Fire
(projection surface design)

Rocky Mountain Repertory Theater
Grand Lake, CO
2013

Director: Michael Querio
Scenery and Lighting: Kent Barrett
Costumes: Jesus Perez

Sculptural, multi-panel 3-D projection screen created with white glue, dirt, spray paint, and over 2000 sheets of recycled copy paper. This piece was meant to evoke the bark of local aspen trees—utilizing a familiar visual language shared between the theater company and its local community.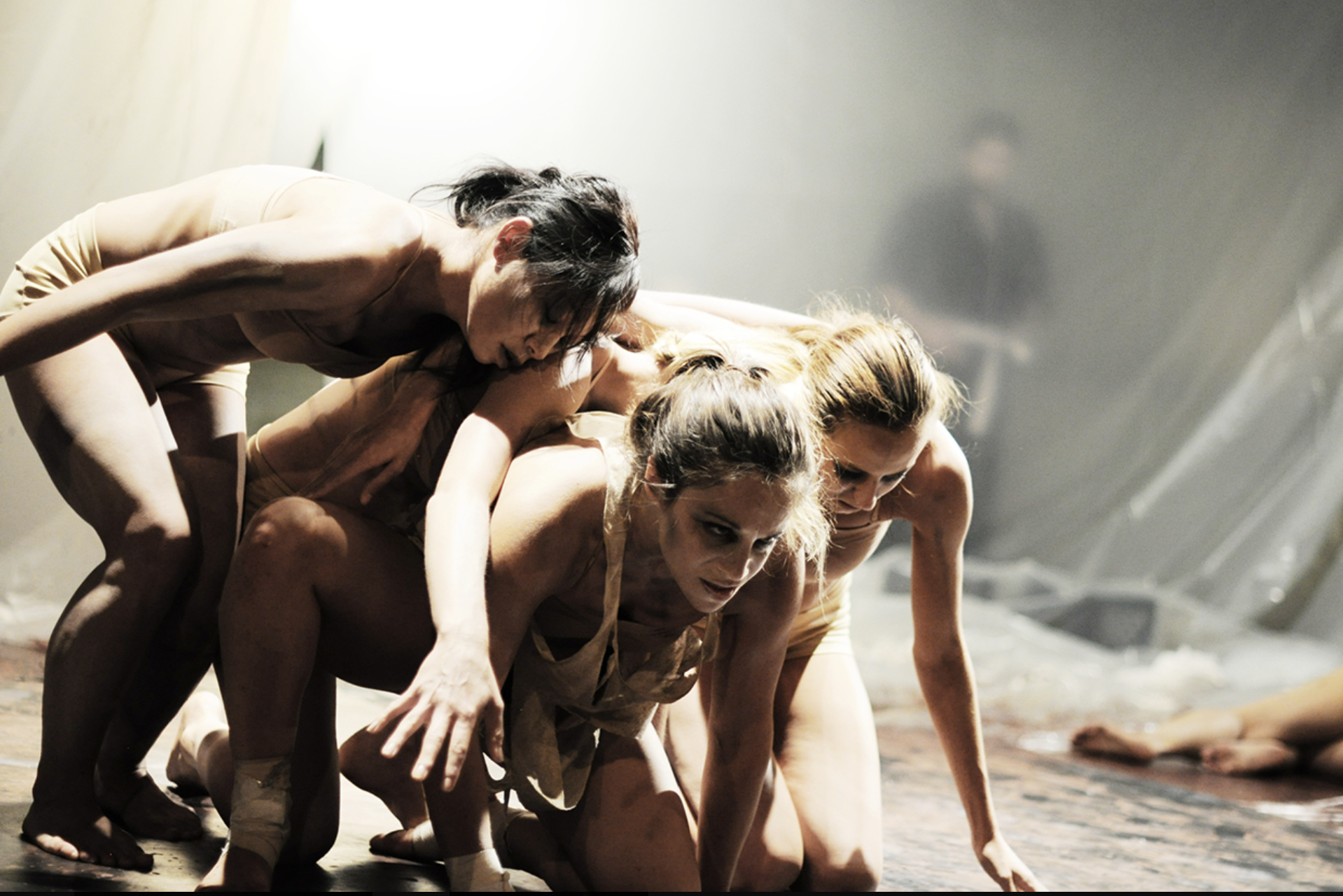 Butoh Electra
(scenic and costume design)

Irondale Center
Brooklyn, NY
2012

Adaptation: Jordan Rosin
Lighing: Evan Gannon
Handwoven Costume Elements: Timothy L. Westbrook

Painter's plastic covered Irondale's 40' x 60' performance space, enveloping the performers and audience in a clustrophobic, sliced-up fishbowl. The plastic was distrubuted and reused following the production, and the costumes are still in use by the Ume Group. Each garment was made from lightweight muslin and tied with textiles woven from casette tape by artist Timothy L. Westbrook.